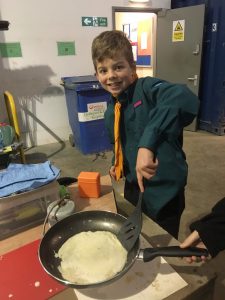 Hello, my name is Aaron and I'm an Scout at the 1st Harston Scout Group. I've really enjoy Scouts, especially when we go camping. The 1st Harston Scout Group currently have a few funding goals and I want to help explain what they are and how they will benefit my myself and my fellow Cubs, Scouts and Explorers!
Storage Facility
At the moment, all of our equipment including tents, pioneering poles, ropes and marquees are stored in a portakabin on some private land in Melbourn. The land owners have generously let us use the facility for many years and has helped us greatly, but there are some problems.
We don't have easy access to it and need to speak to the land owner every time we access it. A new storage facility will ensure that we have easy access.
Because some of our equipment is big, like our pioneering poles, it takes a lot of leaders time to get them, which means we don't get to do much big pioneering. Our new storage facility will enable us to use our pioneering poles on troop nights, and not just on weekends away.
We have already raised over £10,000 towards our £20,000 target through fundraising and generous local businesses. We are also in the process of obtaining planning permission for our new storage facility to be built on the Harston Recreation Ground.
We've come a long way, but we need your help to reach our target, so if you could spare any money, even if it's just £5, every little helps. You can donate by clicking the button below
Kayaking
We are very lucky to have a number of kayaks and a kayak trailer, which are owned by the group. Unfortunately, the trailer was very run down and we needed new paddles, helmets and buoyancy aids. The great news is that we raised £1,000 to help us buy the new equipment and the Explorer Scouts spent weeks renovating the kayak trailer. We now have all of the equipment that we need, but we don't have any qualified leaders who can take us out.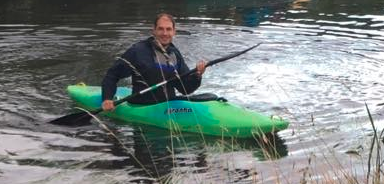 Ben and Ian, our Scout and Explorer Scout leaders have both bought their own boats and are doing lots of training. They are both happy to cover the cost of their personal training, but for them to be able to take us out, they will have to get the British Canoeing Paddlesport Leader Award, which will cost up to £250 each. If we are able to raise this money, they should hopefully complete their training in the Summer of 2018 and then be able to take us all out kayaking (which we love doing).
Whilst we have our own boats, they are over 20 years old, so we also need to start raising money to replace them. The new kayaks will cost between £300 and £400 each, and we would like to be able to buy ten kayaks.
Volunteer
If you would rather help us by coming along and supporting Scout activities, that would be absolutely fantastic. We have quite a few leaders, but they can't look after any more children. We have a long waiting list of children who can't join because we don't have enough leaders.
Thank you for taking the time to read about our fund raising goals. If you would like to help or have any questions, you can contact our leaders here.
From Aaron and all the leaders at the 1st Harston Scout Group :-)